Hy-Rail Services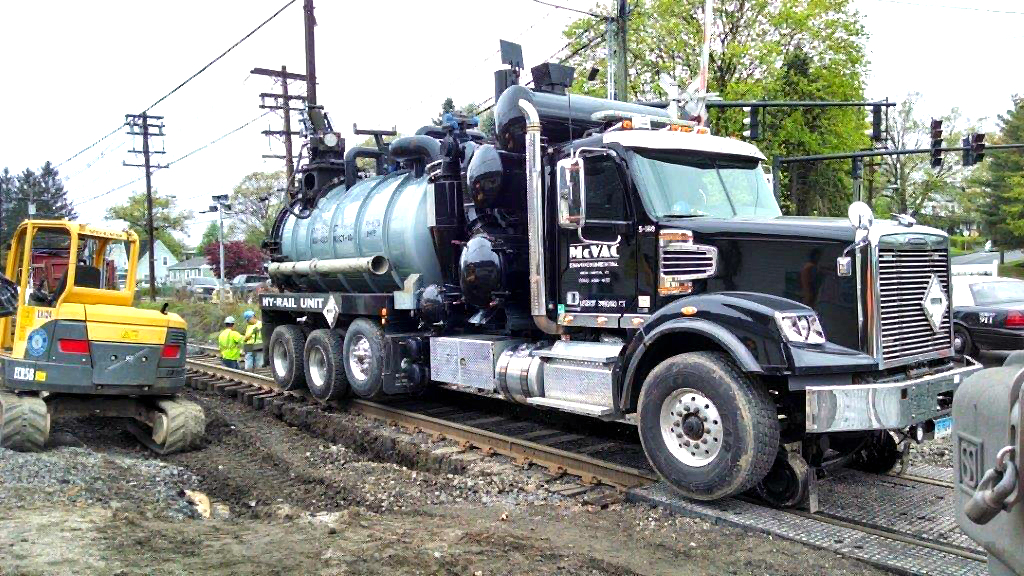 McVac Environmental Services, Inc. has custom-designed Hy-Rail SuperVacuum trucks to meet the demanding needs of the rail road industry.
All units are designed to operate on the existing rails. The trucks are designed to get on and off the rails at most road intersections within minutes. The propriety design maximizes performance with adhering to the strict requirements of the railroad concerning height, width and length of the vehicle. The equipment is designed to handle all solid ballast material along with both hazardous and non-hazardous solid and liquid waste.
Our Hy-Rail trucks come equipped with remote control booms, bag-houses and are all performance-rated DOT-certified hazardous waste units. With the use of McVac's unique equipment, contractors can expect efficiencies that encompass expedient, cost-effective, safe services. These units can be dispatched from any of our locations 24/7, as they are dedicated vehicles to service the rail road industry.
Our Hy-Rail Services Include:
Ballast removal
Vacuum excavation
Derailment response & cleanup
Emergency spill response
Natural disaster response
Hydro/pneumatic excavation
Track cleaning and maintenance
All equipment is FRA inspected on a yearly basis, and all operators receive various amounts of FRA training as well as individual training form the various rail road agencies/companies.