Pipeline, Terminals and Refineries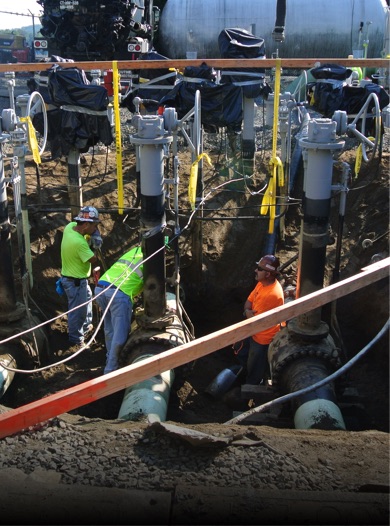 The petroleum and gas industries are very protective of their underground pipelines and facilities throughout North America. These pipelines carry sensitive pressurized gases and oils to their production and refining facilities. When there is a need to expose underground piping and infrastructure, many producers and contractors now require that vacuum excavation is performed to ensure that no damage occurs in the process.
McVac has built up a large fleet of vacuum excavators to perform this work for petroleum and gas facilities and contractors. Our expertise in this area has led to us performing large vacuum excavation projects in compressor stations, exposing valves, manifolds, pipelines, etc. Our commitment to the highest safety standards and procedures has allowed us to build relationships with some of the largest producers in both the natural gas and oil markets.
McVac also has vast experience in Underground and Above-Ground Storage Tanks. Our team of professionals can handle any and all fuel oils, including #6 oil tanks, a rare find in the environmental and construction industries. If your project includes difficult tank cleaning, McVac is the solution.
Our Refinery Services Include:
With our growing fleet of specialized equipment able to perform hydrovac, pneumatic and dry vacuum excavation, McVac has become the company of choice for the petroleum and gas industries.