Industrial Pipe Cleaning, CCTV Pipe Inspection & Storm Drain Cleaning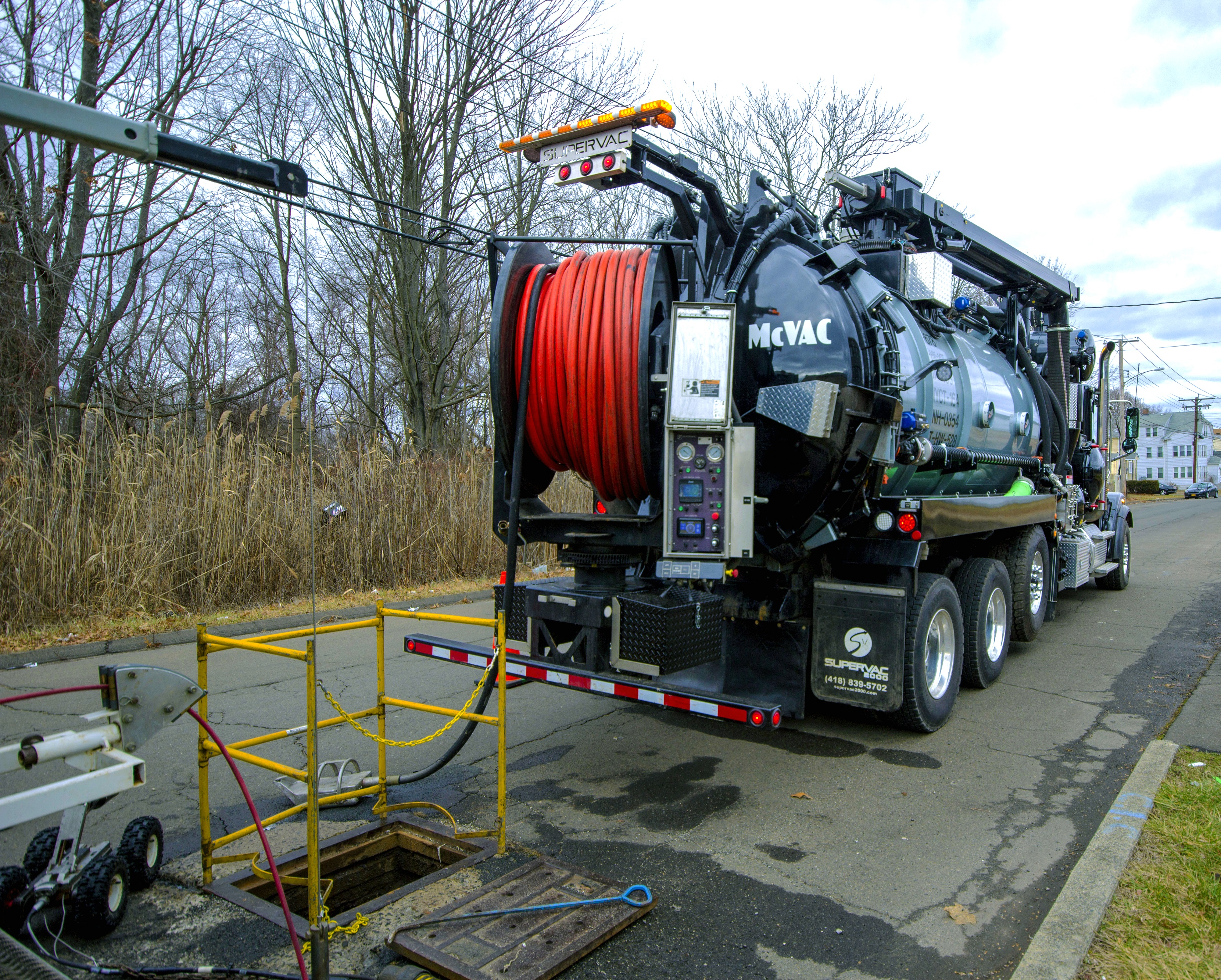 McVac Environmental Services operates a fleet of high-pressure sewer jet trucks utilized for industrial pipe cleaning services ranging from small diameter pipes to large culverts. Our equipment was specifically built by our staff to handle the most unique and challenging pipe/culvert cleaning projects and is also available via Hy-Rail capabilities. We also specialize in industrial pipe cleaning services.
Why Choose McVac Environmental Services?
Over 130 years of combined experience in the industrial pipe-cleaning services field.
Capable of cleaning pipe diameter sizes ranging from 6" to over 120".
Expertise in large-scale pipe cleaning projects.
99.9% efficiency in recycling the water we use for cleaning.
Our Cleaning Equipment Includes
One of very few jet cleaning and water recycling units in the country with a 99.9% efficiency in recycling the water it uses for cleaning to minimize downtime for water resupply and continue working!
Large water reservoir tanks (4,000 gallons) – enabling us to spend more time cleaning and less time refilling
Jet pumps that can operate up to 300 GPM – for heavy cleaning and moving large debris
Multiple hose reels, ranging in size from ½" to 1 ½" – including 1000' of 1 ½" hose, 1000' of 1" hose and 500' of ½" hose
Double "sled heads" that are mounted side-by-side to handle wide pipes and culverts so that the entire pipe is cleaned, not just a single path as a "single head" would do
Large-diameter hydraulic pumps capable of handling large flows of grit, sand and water during the cleaning operation
Decanting containers that capture the sediment/solids and allow the grey water to be returned to the sewer or system
A wide variety of cleaning nozzles and cleaning tips to meet all demands of industrial pipe cleaning. Our nozzle and tip inventory includes spinning tips for cutting grease, feeder roots, root saws/cutters, large root chain cutters for round pipes 6" to 48", floor cleaners with 10 to 14 porcelain rear jets, and sand nozzles.
CCTV Pipe Inspection
McVac Environmental Services operates a fleet of different tractors/crawlers for CCTV pipe inspection, allowing us to perform the hardest and largest pipe inspections. We have tractors capable of CCTV pipe inspections in pipe sizes ranging from 6" to 120" in diameter, all of which are steerable units, allowing the equipment to be maneuvered with ease around any bends or sharp turns in the pipe. This saves significant equipment downtime, allowing McVac Environmental Services to be highly productive and capture the maximum amount of CCTV pipe inspection footage per day.
Our trucks are equipped with the latest CCTV pipe inspection equipment and software, which allows our operators to identify defects (broken tiles, cracks, offset joints, blockages, etc.) and pinpoint in the footage where the exact trouble areas are for repair.
Sonar Pipe Inspection
McVac Environmental Services is one of only a handful of companies in the Northeast and Mid-Atlantic regions to offer sonar inspection services for all types of pipes. Sonar inspection allows a pipe to be inspected even when running at capacity. Sonar is capable of measuring sediment depth and depicting pipe deficiencies, such as protruding laterals, infiltration, cracks and breaks. Sonar profiling has proven to be very successful in a number of applications. Surcharged pipelines, siphons, force mains and river crossings can be inspected without the disruptive and costly need for bypass pumping.
The sonar inspection instrument can be coupled with a CCTV camera and used in semi-submerged pipelines, providing a continuous image of the pipe both above and below the waterline. Customers can watch the live video from our Video Vans and are supplied with both electronic and hard copies of the entire inspection.
McVac Environmental Services utilizes NASSCO (PACP) certified software and operators for all pipe inspection projects.
Storm Drain Cleaning Service
Along with our pipe cleaning division, McVac Environmental also performs storm and sewer drain cleaning services. We offer storm and sewer drain cleaning services by professionals who are fully trained and equipped to handle any needs you may have. McVac Environmental is a storm drain cleaning company that owns and operates a fully licensed transfer station specifically designed to handle storm drain debris and sewer grit. All storm drain material is kept inside the fully enclosed transfer station, reloaded into roll-off containers and transported to a licensed landfill for proper disposal. If you need a storm drain cleaning company that is experienced and dedicated, you are in the right place. To get started, request a storm drain cleaning quote today.