Vac Traxx
First of its Kind
Custom built from the ground up, the Vac Traxx is engineered to handle the most difficult terrains and conditions often found on right of ways, easements, and job sites. This off road vacuum excavator is designed to meet and exceed our customers' expectations and needs.
Focusing on the lowest impact to the environment and the natural settings it travels through, the Vac Traxx is specifically built on a wide stance track layout. This setup allows the machine to travel with the most amount of weight distribution, giving it the least amount of ground disturbance in vacuum excavation services.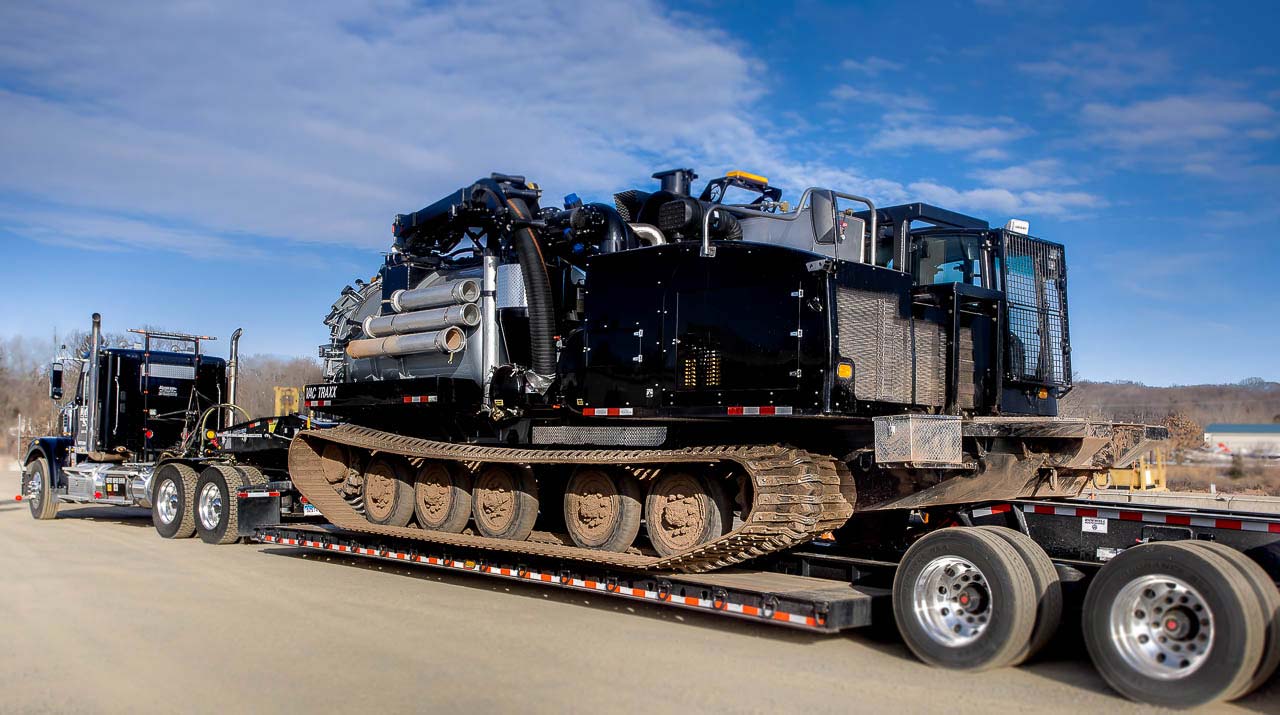 Key Features: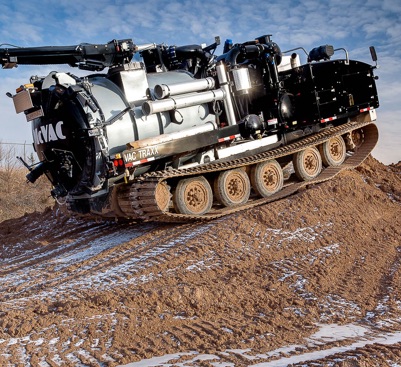 Vac Traxx can maneuver and track over sensitive ground or shallow buried gas and oil pipelines with 3.5 psi of ground pressure when the unit is empty and 4.1 psi when fully loaded.
Eliminates the time consuming and expensive process of building temporary rock, gravel or timber mat access roads which require removal once the job is complete.
Water crossings upwards of 50 inches in depth are clean and easy due to a water-tight drive line and sealed bearings.
A low center of gravity allows Vac Traxx to not only climb slopes up to 50°, and side hill up to 30º, but to safely work in those positions.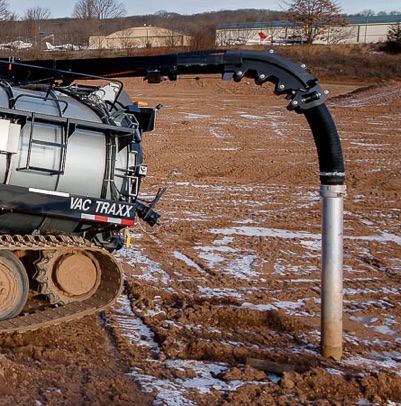 The debris tank is capable of holding 2750 gallons or up to 10yrds of solid product.
Utilizing a custom engineered system the unit is capable of a "high Dump" procedure which will allow the machine to easily and safely unload into an open top or roll off container for easy disposal.
The tank has an adjustable pressure off load system that can unload liquids with ease.
Outfitted with a 20 micron baghouse filter to control air pollution. This ensures no harmful particulates are exhausted while in operation.
An 8" extendable boom with 300 degrees of rotation maximizes vacuum excavation performance.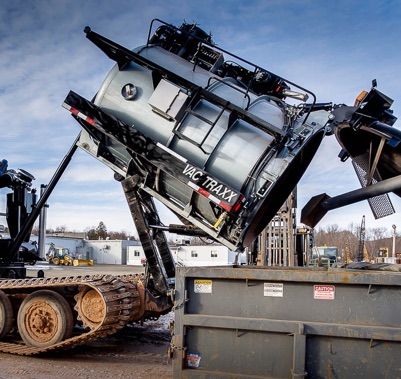 Onboard 185 CFM air compressor with hose and air spade attachments to assist with low impact excavation.
Powered by a tier 4 clean idle engine to meet all EPA regulations.
Equipped with an in cab camera system that allows for a 360 degree view for the operator for added safety while maneuvering in sensitive areas.
Using Eco-friendly hydraulic fluid that is non-toxic coast guard tested and approved to be safe for the environment as well as aquatic and marine applications. This greatly reduces any impact should an unforeseen problem occur.